Talk to westerners and they see China as a relative newcomer to the global tyre industry table. Talk to Chinese people and they may just point out that China has been the world's leading tyre producing nation since 2005. Indeed, full-year 2016 figures show that 600 million tyres were "made in China", many of which were passenger car and light truck products. However, China now wants to move on from its reputation as being the biggest tyre producing nation and progress towards a renewed emphasis on quality and technology. Tyres & Accessories spoke with Mary Xu, the China Rubber Industry Association (CRIA) deputy secretary general, in order to find out more about how the Chinese tyre industry wants to move from biggest to best.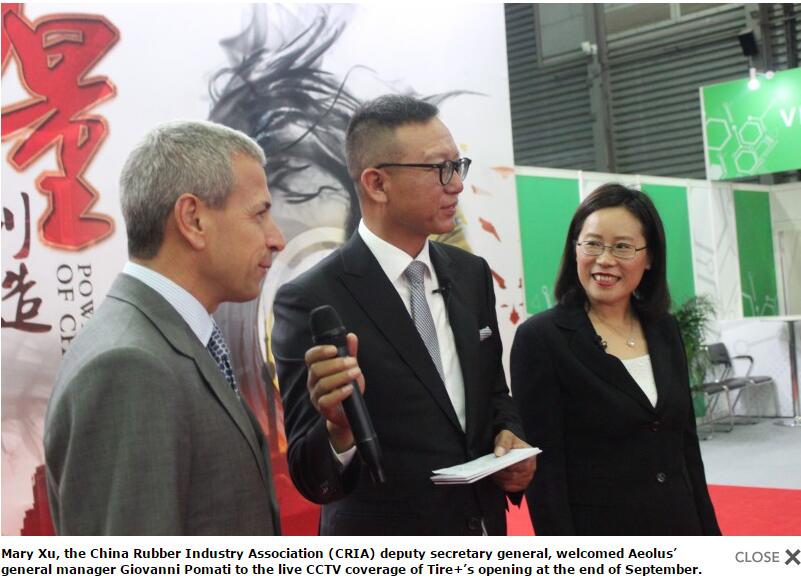 As we all know there is a wide range of tyre products available in China. Some firms are big and/or technological, others are not so impressive. Changes in the Chinese tyre market are moving fast. And this no longer means the rapid construction of large factories. Now there is a critical mass of more progressive tyre manufacturers that are pushing towards increased quality. The CRIA is playing its role in influencing this and therefore there is a growing consensus that Chinese firms can not only influence their internal market standards, but beyond.
Tyres & Accessories met with Mary Xu during the inaugural Tire+ exhibition at the end of September. Walking around the show it didn't take long to see that the quality emphasis was a key consideration at the newly rejuvenated event. And this is at least partly because CRIA (which is a partner to Tire+) has advanced three goals through the show: To promote examples of best practice; further end-user contact; and to extend the tyre industry's media reach.
In order to achieve these goals, CRIA worked closely with the industry's leading players – virtually all of which invested in exhibiting at the show. In practice this means meeting with the most forward-thinking and technologically advanced firms in China, consulting with them about which products and features they could exhibit at the show.
Moving forward, it is clear that there is an increasing emphasis on OE business in China. While historically Chinese tyres may not have been the first choice of global carmakers, there are concerted efforts to change this taking place at both the individual company (Linglong's sponsorship of VW's home football team – Wolfsburg – is a good example of this) and the wider Chinese tyre industry levels (Tire+ and the CRIA Chinese tyre labelling initiative are good examples of this).
Then there's media coverage. Once again, Tire+ was a good example of China's increasingly media-ready thinking in action. During the course of the event there was a series of seminars hosted and livestreamed by local B2B media. Tyres & Accessories may have been the only international journalists covering the event, but the inaugural show had a deliberately domestic emphasis. And when you have a population north of 1.4 billion people, domestic means something quite different to what it does in the UK. With this in mind, the fact that Tire+ had 25 people involved in a live outside broadcast on China's leading national TV station (CCTV) was something of coup. And because the programme reported from the official opening of the show and discussed the history and development of the tyre industry, this win was even better.
Consolidation inevitable
Of course, the drive towards increased technology and professionalism will have an inevitable impact on the smaller players. "Many small factories will be closed this year" Mary Xu predicted, adding that such a development is "a good thing" for the industry as a whole. Another consequence of this market restructuring is that the remaining players will get bigger and stronger. In such an environment, there is likely to be a consolidation of what remains as well as better cooperation between the remaining players during the next three to five years.
Still 2017 has been tough for Chinese manufacturers – even the ones that have survived the storm. Profits have not good this year. In fact, should profits continue on their present trajectory during 2018, consolidation could take place quicker that outlined above. However, no-one should rule out the possibility that another global transaction akin to ChemChina/Pirelli. Doublestar/Kumho may not have worked out, but that doesn't mean a third effort would fail.
As far as Tire+ is concerned, CRIA is said to be evaluating its support of the show. What worked so well this year was the coherent theme between manufacturers. With this in mind a shared goal of reaching OEMs would seem to be attractive for the Chinese tyre industry. Nevertheless, the inaugural partnership has clearly been a success and is indicative of trends in the market.